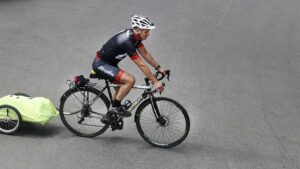 Everything is packed, Julia's bike is disassembled, we feel a restless itch and tomorrow morning we go to the airport.
We land in DC Monday afternoon, and on Tuesday we go to Alexandria to pick up my Gunnar cycle. It is really exciting, the bike will kind of be my office and home for the next three months. Julia comes along for a few weeks, before going back to Washington.
We will try to update this page in English, for family and friends. Not least it might be nice for people we meet on our way to the Pacific. It will not be in competition with Gunnars journalistic duties, everything he does will be registered on this page here. The idea is that the map will be updated as I progress across the country.
You might also want to follow Sykkelgunnar on Facebook, Twitter and Instagram.